August 12, 2022
Press & Media
PlexBio won the "2022 Taipei Biotech Awards- Innovation Silver Medal Award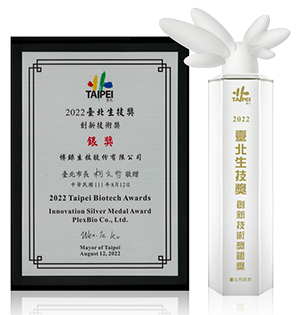 PlexBio Co., Ltd. won the honor "2022 Taipei Biotech Awards- Innovation Silver Medal Award " which is known as the "Oscar Award in Taiwan's Biotechnology Industry" for its self-developed new products as "Automated Multiplexing Molecular In-vitro Diagnostic System".
The "2022 Taipei Biotech Award" Ceremony, the highest honor in the Taiwan Biotech industry, was held on August 12, 2022. A total of 24 companies come from biotech companies and academic institutions among 120 contestants have won the honors "Innovation Award", "Globalizing Award" and "Technology Cooperation Award", and a total of 6 million (NTD) has been awarded. The awarded applications are targeted for new drug development, medical devices and clinical diagnostic areas. So far, the Taipei Biotech Award has entered its 19th year since 2004, 230 outstanding candidates have been awarded, with a total reward of NT$107.6 million, and more than 60 biotechnology companies in Taiwan have been supported to be OTC-listed or listed companies.
PlexBio Utilizes Core Technology Towards Precision Medicine Development
PlexBio Co., Ltd. has been dedicated to the development of precision medicine for 12 years since founded in 2010. We mainly focus on the innovative in vitro diagnostic reagents and instrument platforms for companion diagnostic assays and keep optimizing product manufacturing and validation processes to deliver high-quality products.
Precision medicine is a global trend for current medical health care, followed by personalized healthcare development and the progress for new diagnostic technology developments, it is crucial to have a tool for disease risk evaluation, therapy selections and follow-up care solutions. PlexBio recently fully expanded the product line in cancer genetic diagnostic and infectious disease fields and has successfully developed IntelliPlexTM Lung Cancer Panel to apply in clinical trials for the well-known National University Hospital, which significantly improves the therapy effects for lung cancer patients. Our core technology hence allows us to have more opportunities to develop more innovative assays to improve health life.
The Silver Medal awarded for"Automated Multiplexing Molecular In-vitro Diagnostic System" is designed for medical institutions and laboratory diagnostic centers, along utilizes with our proprietary core technology " Precision Image Code (πCode) MicroDiscs " , which is manufactured from Taiwan's semiconductor technology with photolithography processes to imprint a unique pattern on each πCode and achieves simultaneously detecting hundreds of targets from one sample test. Our multiplexing detection technology allows more comprehensive genetic profile evaluation than traditional single-plex assays and could be more effective to achieve disease diagnosis, prognosis, therapy selection, monitoring, and follow-up care during different cancer management stages.
Automated Multiplexing Molecular In-vitro Diagnostic System Could Significantly Reduce the Assay Detection Cost
The Automated Multiplexing Molecular In-vitro Diagnostic System could process multiple primary sample types including FFPE and liquid biopsy samples, the automated system workflow for 94 sample throughput starts from nucleic acid extraction, quantification, PCR plate preset to downstream PCR, hybridization and detection analysis, a total of 470 samples in average could be analyzed in one day. The automated system not only delivers high sensitivity and high throughput results, but it is also designed for simplifying the tedious manual processes, reducing human error and cross-contamination, and saving detection costs as well. During the pandemic period of infectious disease outbreaks (such as COVID-19), the high throughput design could be effectively controlling the fast transmission of pathogens and increase clinical testing capacity to reduce the medical burden. The automated integration system is then to be the essential instrument for global public health.
PlexBio will constantly optimize its molecular assay products and its detection platforms and set a goal to achieve a fully automated sample-to-answer system and further advance the multiplexing assays for high-efficiency, high-sensitivity and high-throughput in genetic testing, pathogen identification, and cancer diagnostic areas to meet the needs of clinical applications as to the precision medicine.